OPENING : 15TH EDITION OF WORLD PRESS PHOTO MONTREAL EXHIBITION AT BONSECOURS MARKET FROM AUGUST 31 TO OCTOBER 2, 2022
Sundays to Wednesdays: 10 a.m. to 10 p.m. – Thursdays to Saturdays: 10 a.m. to midnight
The World Press Photo of the Year prizewinner, Canadian photographer
Amber Bracken is in Montreal to launch the event's 15th edition
Spokesperson Caroline Monnet to present
world premiere of her exhibition, Ikwewak (Women)
Justine Latour presents Claire, 107 years old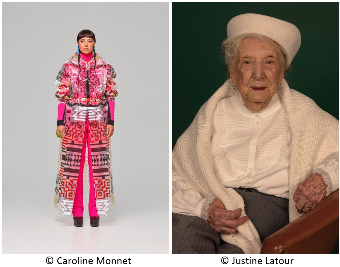 Montreal, August 29, 2022 – The 15th edition of World Press Photo Montreal, the most prestigious international photo contest, gets underway tomorrow night at Bonsecours Market, before opening to the public this Wednesday, August 31, as of 10 a.m., after a two-year absence. The event will run daily until October 2nd, from 10 a.m. to 10 p.m. from Sunday to Wednesday, and from 10 a.m. to midnight on Thursdays, Fridays, and Saturdays.
World Press Photo of the Year prizewinner Amber Bracken will be in Montreal to launch the exhibition. As a reminder, artist Caroline Monnet, who serves as spokesperson for this 15th edition, will also present the world premiere of her exhibition Ikwewak (Women).
In parallel to this, many additional exhibitions will be presented, including the exclusive premiere of photographer Justine Latour's Claire, 107 years old. What's more, the 15 World Press Photo of the Year prizewinners from the past 15 years will be presented to the public, in addition to the 2022 contest's 80 award-winning photographs.
Amber Bracken, World Press Photo of the Year prizewinner
This year, the jury of the most prestigious international press photography contest awarded its top prize to Canadian photographer Amber Bracken for Kamloops Residential School, a photograph taken for The New York Times.
Photographed in British Columbia, the red dresses hung on wooden crosses commemorate the children who died at the Kamloops Indian Residential School. Amber Bracken photographs primarily across western North America, specializing in relationship based and historically contextualized storytelling. Her work explores the intersections of environment, culture, and colonization. The Albertan photographer has covered global issues for media outlets such as National Geographic, The Globe and Mail, The Wall Street Journal, BuzzFeed, Maclean's, ESPN, and The New York Times.
Ikwewak (Women) by Caroline Monnet
"Women is a series of six large-format photographs featuring First Nations women who break free from the historical European gaze by reshaping their biased portrayals in the collective consciousness," explains Caroline Monnet. "Women is part of a series of photo and video works that depict the indigenous woman in all her splendor, quirks, elegance, pride and charisma. In Women, I take a closer look at my generation and their desire to positively step into the future, while building on tradition and taking their rightful place in society. What emerges is a sense of excitement and enthusiasm about a future that we will build together over the next seven generations," adds Monet.
Claire, 107 years old – an exclusive photo exhibition by Justine Latour
Claire Sigouin was born in Montreal in 1915. Still sharp-minded and self-reliant, she has lived in the same house in Bois-des-Filion since 1932. Having carved her own path over many decades while disregarding prevailing rules and expectations, Claire entered her thirties at the end of World War II and turned 107 in May 2022. She retains a youthful spirit and intends to live for a long time still. Claire's laughing eyes tell the vibrant story of an extraordinary and atypical life. "I fell in love with Claire at first sight. Since then, we've become friends," explains the photographer, who has been capturing the centenarian for many years.
Seeing Beyond the Horizon. Together.: Therapeutic adventures for young people with cancer
Since 1996, the On the Tip of the Toes Foundation has given young people with cancer the opportunity to leave the hospital and immerse themselves in nature. Accompanied by a medical team and therapeutic adventure facilitators, they take up the challenge of a four-to-twelve-day expedition in a remote environment. Photography is of vital importance to the On the Tip of the Toes Foundation. A volunteer blogger/photographer joins each expedition. The photos remind young people that their cancer experience has also had its share of happy moments.
Les Décrypteurs: the underbelly of disinformation
How can one distinguish between the real and the fake when surfing the Internet? What are the different varieties of fake news? Can the eye deceive the viewer when presented with a doctored photograph or is it easy to spot whether it has been manipulated? Visitors can expect answers to these questions as part of the Décrypteurs exhibition by the Radio-Canada team, spotlighting the work of Alexis De Lancer, Marie-Pier Elie, Jeff Yates, and Nicholas De Rosa.
Des images qui marquent (Images that leave their mark)
To mark the anniversary of the World Press Photo Montreal exhibition, twelve of La Presse's current photographers each present an image that has left an impression on them over the course of their career. These poignant snapshots were brought to life by photographers Hugo-Sébastien Aubert, David Boily, Marco Campanozzi, Martin Chamberland, Olivier Jean, Sarah Mongeau-Birkett, Edouard Plante-Fréchette, Alain Roberge, François Roy, Patrick Sanfaçon, Robert Skinner, and Martin Tremblay.
About the World Press Photo Montreal exhibition
Often dubbed the Oscars of photojournalism, the World Press Photo features the prizewinning photographs selected by a jury from a vast selection of nearly 65,000 submissions by 4,066 photojournalists hailing from 130 countries. Presented since 2005, the Montreal exhibition is one of the world's most highly attended editions.
About World Press Photo
Founded in 1955, the World Press Photo Foundation is an independent, non-profit organization with its headquarters in Amsterdam. The foundation is committed to supporting and advancing high standards of photojournalism and documentary storytelling worldwide. Each year, the exhibition travels to more than 100 cities in 45 countries and is seen by more than 4 million visitors. Hailing from five continents, the prizewinning photographs are divided into four categories: Singles, Stories, Long-Term Projects, and Open Format. The World Press Photo receives support from the Dutch Postcode Lottery and PwC.
World Press Photo Montreal exhibition
Bonsecours Market, De la Commune Hall – 325 De la Commune St. East
Old Montreal (Champ-de-Mars metro) – Accessible to people with reduced mobility
Schedule
August 31 to October 2 daily – 10 a.m. to 10 p.m.: Sundays, Mondays, Tuesdays, and Wednesdays
10 a.m. to midnight: Thursdays, Fridays, and Saturdays – Open Labour Day Monday (September 5)
Box-office
General admission: $15 | Students and seniors over 65 years old: $12
Under 12 years old: free | Group rates: see details online, in the Group section
Montreal partners: Radio-Canada, La Presse, Old Montreal SDC, Urbania, Publicité Sauvage, Itinéraire, and Hotel Gault.
For more information, follow us on Facebook and Instagram
– 30 –
Press materials available here
Media contacts:
Mélanie Mingotaud: Melanie@mingo2.ca – 514 582 5272
Zoé Verdier: Zoe@mingo2.ca – 514 617 3472