WORLD PRESS PHOTO MONTREAL UNVEILS 14TH ED. ASSOCIATED EXHIBITIONS [2019]
The World Press Photo Montreal unveils its 14th edition's associated exhibitions: Portraits by Monia Chokri, Age Old Cities: from Palmyra to Mosul by Ubisoft, and a tip of the hat to L'Itinéraire magazine on its 25th anniversary
Montreal, August 6th, 2019 – The World Press Photo Montreal exhibition team today unveils some of the associated exhibitions that will be presented during its 14th edition at Bonsecours Market, from August 28 to September 29.
Monia Chokri, On Film
Filmmaker, screenwriter and actress Monia Chokri's passion for film photography started at an early age. Her artistic gaze and allegiance to film will give rise to an intimate and dreamlike series of images shot in Montreal and Paris.

These large format images will be presented exclusively in the Mezzanine space at Bonsecours Market. As previously noted, Monia Chokri is also the 2019 spokesperson for the Montreal event.
Age Old Cities: A Virtual Journey from Palmyra to Mosul, presented by Ubisoft
Each day from 6 to 10 p.m., visitors will be able to put on a head-mounted display and immerse themselves in a virtual reality experience entitled Age Old Cities: A Virtual Journey from Palmyra to Mosul.
They will be taken on a journey to the heart of six mythical monuments in the Arab world: the Temple of Baalshamin in Palmyra and the souk of Aleppo in Syria; the Leptis Magna basilica in Libya; the Great Mosque of Al-Nuri, the underground tunnels of Nabi Yunus and the Our Lady of the Hour Church in Mosul, Iraq.
Recreated thanks to the expertise of the project's partners in the digital reconstruction of sites, this exhibition aims to raise awareness about the stakes involved in preserving world heritage sites. This immersive experience, which will make its North American premiere, was developed by the Arab World Institute, thanks to the expertise of Iconem and Ubisoft, in partnership with UNESCO and the University of Lausanne.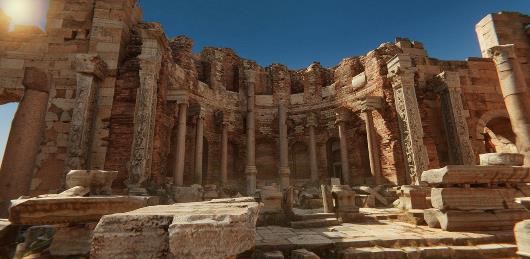 L'Itinéraire: 25 Years of Stories
Bolstered by an exceptional mandate, role and model, the journalists, hawkers and team of employees and active volunteers at L'Itinéraire magazine have been shaping the collective conversation and the Montreal landscape for the past 25 years. The World Press Photo Montreal exhibition team is proud to host a retrospective of this incredible individual and collective journey, supported by passionate people. Produced by L'Itinéraire, this exhibition will be presented in the West Room of the mezzanine space.
– 30 –
Images available in high resolution:
Photos of the Monia Chokri exhibition
Screenshots of Ubisoft's Age Old Cities: A Virtual Journey from Palmyra to Mosul exhibition
Prizewinning images of World Press Photo 2019
Link: https://www.expo-wppmtl.ca/medias/.
Password: WPPmedia
Information and interviews:
Mélanie Mingotaud
514-582-5272